Tue Mar 25, 2008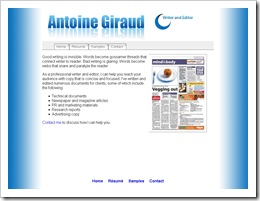 I've officially uploaded the latest version of my ePortolio - you can check it out here.
This website uses some flash elements and some fancy css coding and is basically geared towards technical writing employers as a way to showcase my work. I may expand it in the future to include other samples too.
For those who are interested, I designed it in Dreamweaver, Illustrator, and Photoshop. I used FlashSpring Pro 2 to convert a Powerpoint to flash. It's best viewed using the latest version of any browser with a resolution of 1024x768. It's also a bit flashier than the portfolio on this blog, which includes everything, including the kitchen sink.